---
Did you know that Depoe Bay is considered the whale watching capital of the Oregon Coast? Also home to the world's smallest harbor, this charming beach town is the best place to spot massive whales migrating close to the shore. Depoe Bay whale watching takes place year-round and is a popular activity for both locals and visitors alike. If you are planning a trip to the Oregon Coast, you must experience it for yourself! Here are a few things to keep in mind before you go.
If you are planning to go whale watching in Depoe Bay, you'll need to find the perfect accommodations for your stay. Meredith Lodging offers a wide array of luxury vacation rentals up and down the Oregon Coast, and many of our homes and condos are located in Depoe Bay. Make sure to sign up for our newsletter to receive exclusive email-only specials and vacation packages. You'll also be the first to know about new rentals and what's happening in our destination areas.
When Is the Best Time for Depoe Bay Whale Watching?
Whether you are visiting in the spring, summer, fall, or winter, you can spot whales along the Oregon Coast year-round. But you definitely won't miss the 2023 Spring Whale Watch Week. Summer and Fall is another great time for whale watching, as you are likely to spot our resident gray whales feeding close to shore!
Visit the Depoe Bay Whale Watching Center
Recognized on the National Register of Historic Places, the Whale Watching Center is the perfect place to spot gray whales. The facility is located right on the seawall in Depoe Bay and park staff is readily available to answer any questions you may have. The Center's hours vary throughout the year, and it is typically closed on Mondays and Tuesdays.
Depoe Bay Whale Watching Excursions
If you would like to see the whales up-close, we definitely recommend signing up for a whale watching tour. There are several charters in Depoe Bay that will take you out to sea, where you may spot large spots, whalebacks, deep dives, and even breaches. There's nothing quite as impressive as watching a 40-ton whale leaping out of the water! Here are some of our favorite charter companies:
1. Whale Research Eco-excursions: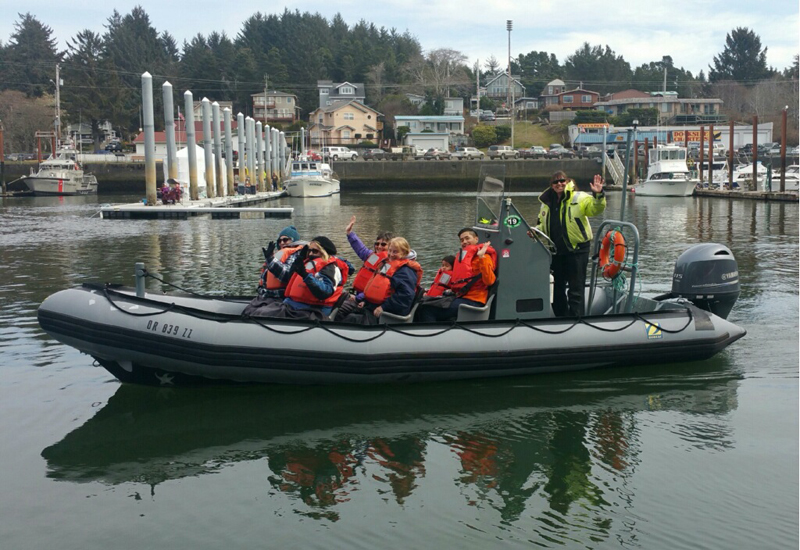 ---
For a fun and educational experience, we recommend signing up for a tour with Whale Research Eco-excursions, LLC in Depoe Bay, OR. These guided trips are led by expert marine biologists on zodiac boats, which are rated #1 in safety and extremely comfortable. During the tour, you can expect to see giant whales, sea lions, seals, seabirds, and more! Regular one and a half hour excursions cost $45 and are just $35 for children 12 and under. Daily departures are scheduled at 10 a.m., 12 p.m., and 2 p.m. Make sure to arrive early and don't forget to bring your camera!
2. Tradewind Charters:
---
Tradewind Charters Whale Watching and Fishing in Depoe Bay, OR, is another one of our favorite tour companies. This premier charter service has been providing fun and interactive whale watching excursions since 1938! Tours are led by a friendly and knowledgeable staff on modern, fully-equipped vessels. You may come aboard as a visitor, but we guarantee that you will leave feeling like you are a part of the crew. One-hour whale watching cruises are just $20 for adults, while two-hour cruises are $35.
3. Whale's Tail Charters LLC:
---
Whales Tail Charters also offers a more personalized experience. They offer everything from whale watching and scenic tours to custom trips. Guests can enjoy riding in a comfortable zodiac boat while an experienced guide takes you right up to all the best whale viewing areas. One-hour tours are $30, or you may enjoy a one and a half hour tour for $40. They can accommodate smaller group sizes between 2 and 6 people.
4. Dockside Charters, Inc:
From deep sea fishing to whale watching excursions, Dockside Charters offers a wide array of ocean adventures. Tours are offered on 50-foot Delta charter boats, which include heated cabins, restrooms, indoor seating, and outdoor seating on the deck. Tours are offered every day of the week depending on weather conditions. This charter service can also accommodate large group sizes, so make sure to bring all of your family and friends! One-hour trips are just $20 for adults, and one and a half hour trips are $25.
What Kind Of Whales Will You See While On Whale Watching Tours? What Whales Do You See Throughout the Year?
It's quite common to see humpback whales, orcas, dolphins, porpoises, or blue whales from Depoe Bay. Mid-December through mid-January is a great time to go, as nearly 20,000 grey whales migrate south to Mexico for the winter. Late March to June is another prime time to watch for gray whales traveling north toward Alaska.
Stay with Meredith Lodging When Whale Watching in Depoe Bay, Oregon
After a thrilling day out at sea, come kick back and relax in one of our luxurious Depoe Bay vacation rentals. Meredith Lodging offers a wide array of upscale rental homes and condos along the Oregon Coast. Whether you are searching for a large family home, a romantic oceanfront condo, or a pet-friendly option, your perfect property awaits you here.
Each of our accommodations features top-notch amenities and are just minutes from the many shops, restaurants, and attractions in town. The best part? All of our Depoe Bay properties are beachfront, so you could even spot whales from the comfort of your rental home! Check our current specials and browse through all of our available rentals. Then, contact us at 800-224-7660 to start planning your next trip. We look forward to seeing you soon!