There is nothing better on a hot summer day in Central Oregon than taking an exhilarating ride down the Deschutes River. This blog post is all about Sunriver white water rafting, so whether you are looking for a family-friendly adventure, or a thrilling excursion through intense rapids, the Deschutes River has something to offer everyone. Check out our list of the best rafting tour companies near Bend and Sunriver to help you choose the adventure that is right for you!
Whitewater Rafting Tour Companies near Bend and Sunriver, Oregon:
---
Sun Country Tours
Sun Country Tours has been running whitewater rafting excursions in Central Oregon since 1978. Their most popular trip is the Big Eddy Thriller, a fun 3-mile trip down class I and III rapids designed for the whole family – young kids don't even have to paddle! Sun Country Tours also offers trips down the Lower Deschutes, the McKenzie, and North Umpqua. On Wednesdays in July and August, you can book a Raft 'N Brew tour (21 and older only). This popular tour takes you down the Big Eddy, and ends with a complimentary beer tasting on the Sun Country Tours patio. Each week they partner with a different local craft brewery, and 50% off the proceeds from the tour go to Mt. Bachelor Play Forever Fund. No matter which trip you choose, we guarantee a splash-tastic time! 
Ouzel Outfitters
Only have one day to play? Ouzel Outfitters offers half day, full day, or custom trips to cater to your needs. The one-day trip down the Deschutes River is one of the most popular excursions. Visitors can enjoy navigating through class III rapids, swimming, rock jumping, and more. Half-day trips include a snack and a selection of sparkling water, and full-day trips include a delicious lunch. Ouzel Outfitters aims to offer an unforgettable adventure with a splash of class.
River Drifters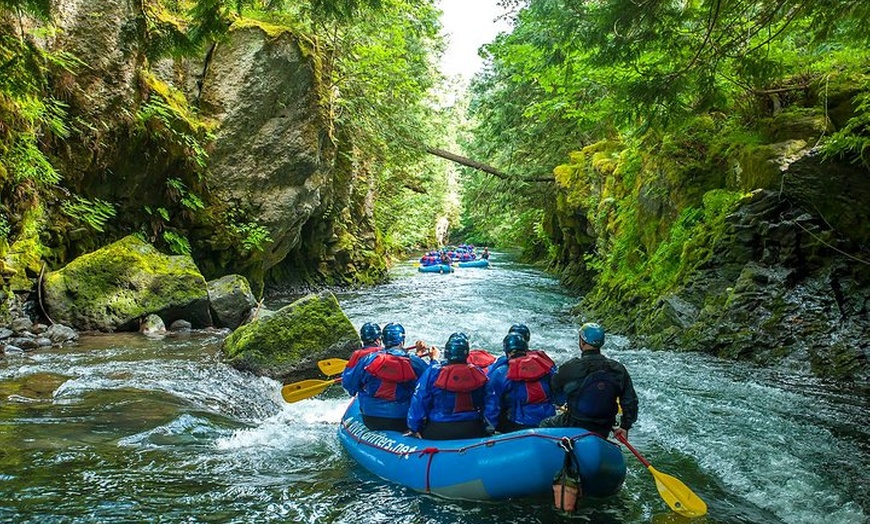 River Drifters offers experienced, friendly guides, top-quality gear, hearty meals, and unmatched value. Whether you are a beginner or experienced rafter, you can find the perfect trip that meets your skill level, time commitment, and your comfort level for river adventures.
Conveniently located on the Deschutes River near the Old Mill District (about 20 minutes from Sunriver), the Bend Whitewater Park offers tons of on-water fun. From tubing and kayaking to surfing and rafting, you can enjoy a wide range of activities here. The Whitewater Channel of the park offers four different wave features with varying levels of difficulty. The unique combination of natural and innovative, man-made features helps create ideal conditions for a whitewater rafting trip.
---
Who Can Ride the Rapids?
Sun Country Tours has an age minimum of 6 years old, and can also accommodate disabled guests. River Drifters has a minimum age of 4 years for the Deschutes River tours, and Ouzel Outfitters welcomes guests starting from 6 years old. We recommend contacting the companies directly with any questions or concerns, as the knowledgeable and helpful staff will recommend the best tour for you and your family or group.

What Should You Wear?
Weather in Central Oregon can be changeable, so we recommend checking the temperature to dress accordingly. On warmer days, bathing suits, T-shirts and quick-drying shorts are encouraged. On cooler days, light layers of clothing made of synthetic fabrics, or wool to help wick moisture, will help keep you warmer. Wear shoes that can stay on your feet, like river sandals, water socks, or athletic shoes that can get wet. Each tour company will provide you with clothing recommendations and suggestions on what to bring upon booking.
Planning a Group Rafting Trip?
All of the tour companies listed above can cater to your group needs to plan an unforgettable whitewater rafting or outdoor experience on the Deschutes River. Whether you are planning a family reunion, a corporate event, bachelor/bachelorette party, youth/school groups, or any other special occasion you can think of, a customized river adventure is just a call away.
Stay with Meredith While Hitting the Rapids During Your Central Oregon Trip!
Ready to plan a summer vacation you'll never forget? A stay with Meredith Lodging will provide you with the perfect home base for all your Sunriver white water rafting adventures – not to mention a sunset that will leave you in awe! We offer an amazing selection of vacation homes, ranging from cozy cabins to spacious homes that can accommodate large groups, and pets, too! View our collection of Sunriver vacation rentals, or call our Reservations Team at 877.778.9055 to book your stay. We hope to see you out on the water soon!
Explore Our Central Oregon Collection
Looking for more things to do on the river on your trip to Sunriver? Check out our blog for all kinds of ideas!